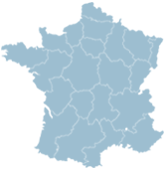 Select a location on the map to display properties within the region.
The Simple Booking Process
The Search
You can use the search facilities to find properties of a certain group size and location and then further refine the results with specific requirements.
Once you have found a property, use the 'Send Enquiry' button on that property page to ask any questions regarding the property or availability. The property owner, or their representative, will then be in touch to confirm availability or answer any questions.
The Booking
Once you have picked the holiday home of your choice and availability has been confirmed...
The property owner, or their representative, will liaise with you regarding the booking and payment procedure. The actual booking contract will always be with the owner of the property or their agent (not with French Maison).
The owner, or their agent, will request a deposit (around a third of the holiday price) and this confirms your holiday.
The remaining payment will be due 8 - 12 weeks before your holiday, depending on the individual owner.
You will receive the details of your holiday home and will be able to keep in contact with the owner should any further questions about the property or area come to mind.