Top Family Attractions in the South of France
« Back to Articles - Date Posted: 14/11/2020 1:01pm by Alison Cummings
The South of France is a beautiful location to visit. If you're planning a trip to the area for a family holiday, then you'll be pleased to know that there are many delightful attractions to ponder. From vineyards to parks, the choice is incredible.
Accrobranche
Located in woods, close to Motagnac, Accrobranche is the epitome of adventure with rope ladders and tree canopy walks just two of the activities that young ones will relish. It's a great attraction for those of all ages, unless you're not particularly fond of heights.
Montpellier Zoo
Situated in North Montpellier, the zoo is an exceptional attraction for those of all ages. Boasting free entry, the variety of animals include lions, bears, rhinos and three leopard brothers. The second biggest zoo in France, there's lots of walking to do, but plenty to see in this wonderland of nature.
Aqualand
A fun excursion for those who enjoy water activities, this water park is a popular attraction for those visiting France. Look out for the Niagra, Congo River, Black Hole and The Colarado. Featuring a mixture of flumes, slides and wave machines for older children and adults, younger children will love splashing in the toddler pool. It's a hugely popular venue, so arrive early to avoid the queues.
Dinosaur Museum
Based in Meze, the largest museum in Europe dedicated to dinosaurs provides an entertaining and captivating attraction for all the family. Explore the real size reconstructed dinos, exhibitions and the evolution of man museum.
Go Biking!
For families with older children, why not rent a few bicycles and enjoy the picturesque scenery that the South of France offers. Avignon boasts many beautiful villages, with coffee shops, cafes and pastry shops brimming with delicious treats. Capture the striking countryside on camera as you travel through winding streets and browse the quaint buildings that line the roads.
Le Petit Paradis
A pet haven for your little ones, this fabulous petting zoo features bunnies, goats and guinea pigs for children to marvel at, as well as pony rides and a playground to keep everyone amused.
Planetarium Galilee
Located in Montpellier, this planetarium is a wonderful attraction for those who love the solar system. View projections of space in the IMAX theatre, or browse the shop and take a gift home with you.
African Safari Park
Situated in Sigean, this safari park is perfect for little adventurers. Witness lions, elephants and gorillas as you navigate around the reserve, for an ideal escape from your holiday home.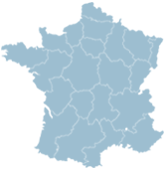 Select a location on the map to display properties within the region.