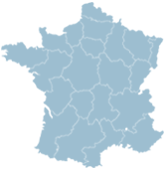 Select a location on the map to display properties within the region.
French Maison, The Old Stables, The Street, Little Bealings,
Woodbridge, Suffolk IP13 6LT, United Kingdom 01473 597051
If you would like us to help you find your French holiday property, please use the form below and tell us about your requirements.
If you wish to contact an owner yourself about a specific property, you need to click on the 'Send Enquiry' button on the property page you are interested in.