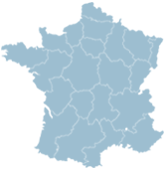 Select a location on the map to display properties within the region.
Privacy & Cookies Policy
French Maison Ltd understands and respects the importance of your privacy and we are committed to safeguarding your personal information. In providing our service to you, we must collect personal information from you and this policy outlines how we treat your personal data after it has been collected by our website, telephone conversations, and any other digital services or channels as they evolve.
What information will we collect?
We may collect all or some of the following information relating to you or other members of your party:
- Names and contact/address details including telephone number and email address;
- Credit/ debit card or other payment details (including card number, cardholder name, expiry date);
- Special requirements such as those relating to any disability or medical condition which may affect the chosen arrangements;
- Dietary restrictions (which may disclose your religious beliefs).
You are responsible for ensuring that other members of your party are aware of the content of this Policy and consent to your acting on their behalf in all your dealings with us.
Some of the information we collect may be considered "sensitive personal data" under the Data Protection Act 1998. We collect it to cater to your needs or act in your interest, and we are only prepared to accept sensitive personal data from you on the condition that we have your positive consent. We will seek this consent when necessary.
What will we do with it?
(1) We will use your name, address and credit card details or other payment details to complete your booking with us.
(2) We will also use your details to manage your arrangements, send you notifications and communicate with you generally.
(3) For the purpose of completing your booking, we may have to disclose some of your information to the providers of the services making up your arrangements (who could be located outside the UK/EEA). We may also have to disclose some information to third parties in relation to customer services, credit card processing, or other services.
(4) Credit/debit card payments are processed via our merchant provider on their secure platform and include the card type, date and time, amount, card expiry date, billing postcode, your address and other related information. This information is required and necessary for the performance of our contract with you. We do not have sight of the complete card number or CVV code at any time, but this will be held securely by our merchant provider who are audited and certified as a PCI Service Provider Level 1.
(5) We may need to disclose your information where required by law, where such a request is made by a legal authority.
(6) We may from time to time contact you with information about special offers, brochures, new products, forthcoming events or competitions. If you do not wish to receive such information, you may ask us in writing not to receive it.
We would also like to store and use your personal details for future marketing purposes (for example, emailing you our newsletter). All details you give us in connection with your booking will be kept but we will use only names and contact details for marketing purposes unless you have indicated that you do not wish us to do so.

We have taken all reasonable steps to have appropriate security measures in place to protect your information. Outside the European Economic Area, controls on data protection may not be as wide as the legal requirements in this country. The transmission of information via the internet is never completely secure. We exclude our liability for personal data lost in transmission to the website.
What can I do?
If you do not agree to our use of the information as set out above, you should inform us as soon as possible by writing to us at French Maison Ltd, 27 Bredfield Road, Woodbridge, Suffolk, IP121JA or by email at info@frenchmaison.co.uk.
Opt-Out Policy
Subscribers can opt out of receiving further information from us at any time. You will also be given a fast and easy option of opting out on all communications. Email us at info@frenchmaison.co.uk to unsubscribe.
Cookies
We use a number of different cookies on our site. If you do not know what cookies are, or how to control or delete them, then we recommend you visit http://www.aboutcookies.org for detailed guidance.
The list below describe the cookies we use on this site and what we use them for. Currently we operate an 'implied consent' policy which means that we assume you are happy with this usage. If you are not happy, then you should either not use this site, or you should delete the cookies having visited the site, or you should browse the site using your browser's anonymous usage setting (called "Incognito" in Chrome, "InPrivate" for Internet Explorer, "Private Browsing" in Firefox and Safari etc.)
First Party Cookies
These are cookies that are set by this website directly.
Google Analytics: We use Google Analytics to collect information about visitor behaviour on our website. Google Analytics stores information about what pages you visit, how long you are on the site, how you got here and what you click on. This Analytics data is collected via a JavaScript tag in the pages of our site and is not tied to personally identifiable information.We therefore do not collect or store your personal information (e.g. your name or address) so this information cannot be used to identify who you are.
You can find out more about Google's position on privacy at https://www.google.com/policies/privacy/
More information on session cookies and what they are used for at http://www.allaboutcookies.org/cookies/session-cookies-used-for.html
Third Party Cookies
These are cookies set on your machine by external websites whose services are used on this site. Cookies of this type are the sharing buttons across the site allow visitors to share content onto social networks. Cookies are currently set by Twitter, Facebook, Instagram, Google+ and Pinterest. In order to implement these buttons, and connect them to the relevant social networks and external sites, there are scripts from domains outside of our website. You should be aware that these sites are likely to be collecting information about what you are doing all around the internet, including on this website.
You should check the respective policies of each of these sites to see how exactly they use your information and to find out how to opt out, or delete, such information.