Life's a beach! Spectacular seaside breaks in France
« Back to Articles - Date Posted: 15/01/2020 8:45am by Alison Cummings
France really does have it all. The food, the culture, the history, the weather... and some fantastic beaches and seaside destinations to choose from too. If you are planning a seaside getaway this summer, France has a wealth of destinations to choose from, whether it is a romantic break, a family holiday or an action packed water sports adventure that you are looking for.
The country is home to a very diverse range of beaches - and you don't necessarily have to travel far to reach them. If you want to stick to the north and Pas-de-Calais, try Wimereux for a family holiday, or Wissant for a more active break: the latter is one of the most popular windsurfing destinations in Europe, and also offers sand yachting and kite surfing.
If you are looking for an active break but want to travel further south, the Côte d'Argent is the place to be. Boasting the longest stretch of sandy beach without any interruption in Europe, there are plenty of spots that are famed for surfing and other activities, including Hossegor with its swell of up to three metres.
Those looking for a little more luxury may enjoy Biarritz - while it is popular amongst surfers, its beautiful beaches and stunning promenade also make it popular amongst those looking for a stylish and sophisticated break. The same goes for the Côte d'Azur - in particular, St Tropez - which was fashionable in the 1950s, went through a period of decline in the 1990s and is now fashionable once again. Not only will you find great beaches (try Pampelonne and Tahiti), but you'll also enjoy a fantastic climate, and plenty of glamorous visitors sunbathing alongside you. You could also try Nice, which has more of a big city buzz - just be aware that you'll be sunbathing on shingle rather than sand.
Those travelling with children will find a huge number of beaches around the country that offer a safe environment in which to play and swim. In the south, try the island of Porquerolles, just off Hyères, where you'll find fantastic beaches as well as great cycling opportunities - and the island itself is completely free from cars. If headed west, consider the Ile de Ré - in particular, the Conche des Baleines: a long stretch of sandy beach that is perfect for ball games, sandcastles and more.
The D Day Beaches of Normandy are a great way of combining lazing and learning, with beaches that the children will love, alongside a wealth of military history. If you want to stay in the north, try Le Touquet with its miles of white sand beaches, sand dunes on which to play and a water park - Aqualud - for when you fancy doing something different.
Whatever type of beach holiday you are after in France, you really are spoilt for choice - the country is blessed with some beautiful seaside resorts... all you need to do is to decide where to go!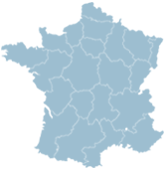 Select a location on the map to display properties within the region.