Must visit museums in Paris
« Back to Articles - Date Posted: 28/09/2017 10:31am by Alison Cummings
Paris is a treasure chest packed to bursting with art, culture and history. There are so many fantastic museums, galleries and landmarks to visit that it can be hard to know exactly where to start. That's why we have come to the rescue with this article, which gives you the low down on the five must-visit museums in Paris. Our selection is wide and caters to all tastes, so whether you're harbouring a passion for ancient artefacts or dying to see a Da Vinci in the flesh, this top five list offers all you need and more.

1. The Louvre
It should be made a criminal offence to leave Paris without having visited the Louvre museum. Packed with masterpieces from the world's greatest masters, such as the Mona Lisa, the Venus de Milo and The Raft of the Medusa, the Louvre will leave you in awe even if you aren't a huge art fan. Be aware that with over 35,000 individual artefacts within their collection, you will need more than a spare hour to even scratch the surface of what the Louvre has to offer.

2. Musee d'Orsay
The Musee d'd'Orsay was originally built as a train station. Spread over three floors, the d'd'Orsay is world famous for its outstanding collection of Impressionism and features works by Claude Monet, Renoir, Degas and Cezanne, as well as works from a wide range of other famous artists too. Musee d'd'Orsay is a cultural powerhouse, delivering a wide range of fascinating lectures and hosting exhibitions on art, film and music too.

3. Le Petit Palais
Quite apart from the world famous works of art it plays host to as the City of Paris Museum of Fine Arts, Le Petit Palais is a work of art in itself, with a striking arched portico and a gothic façade complete with intricate symbolic carvings and statuettes. Inside Le Petit Palais, you will be treated to an eclectic array of artefacts and works of art from the ancient world to the last century. Petit Palais was originally built in 1900 for the Great Exhibition and was designed to host the designs of Charles Girault before conversion to the current museum.

4. Museum of Modern Art, Georges Pompidou Centre
The Museum of Modern Art, housed inside the Georges Pompidou Centre, hosts two main collections - 1905 to 1960 and 1960 onwards. It is the second largest collection of contemporary and modern art in the world at more than 70,000 pieces, the largest being the MOMA in New York. For that reason alone, it is a must-visit. In addition to pieces from thousands of contemporary artists from around the world, the museum also showcases pieces by Mondriaan, Theo van Doesburg, Jackson Pollock, Alberto Giacometti and Willem de Kooning, amongst other modern masters too numerous to name here.

5. Musee Guimet
Beyond the behemoths of the Louvre and the Museum of Modern Art, Paris is home to a huge array of smaller, more intimate museums with unique and unusual collections. Amongst them is the must-visit Musee Guimet, which despite its small size is packed with the largest collection of Asian art outside of Asia. Musee Guimet is a refreshing change to the calf-achingly ginormous Parisian cultural staples and a good visit option if you don't have several hours free.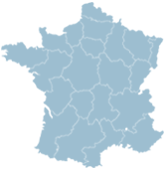 Select a location on the map to display properties within the region.