Some French regional specialities to discover on your trip
« Back to Articles - Date Posted: 13/04/2018 4:18pm by Alison Cummings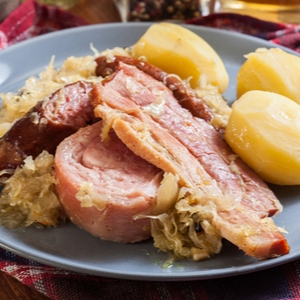 France, of course, is famous for certain foods. When we think of French foods, snails, frogs legs and macaroons instantly spring to mind. However, each region of France boasts its own delicacies, whether this be a variation of a stereotypical French food or something that may come as a surprise to many.
What are some of these French regional specialities?
Alsace
The Choucroute garnie of Alsace is perfect for pork lovers. The foremost ingredient of this dish is Sauerkraut, a finely chopped fairly acidic cabbage. This is combined with sausages, pork chops, pork chest and other unfamiliar cuts of pork for the more adventurous. For those who prefer a healthier option, or simply aren't a massive pork fan, there is also a seafood version of the Choucroute. Haddock, salmon and other seafood replaces the pork but any combination with the Sauerkraut is always perfect.
Burgundy
Although Burgundy may be famous for its vineyards, they are also known for their snails! Often snails are absolutely smothered in garlic, but in Burgundy only a few drops of garlic oil are added, so you still get the taste without it being too overpowering. They are also covered in a parsley based sauce and served with crushed potatoes, perfect for those who wish to try a unique twist to this traditional French delicacy.
Brittany
Brittany is renowned for seafood and in particularly its Oysters. With its unique location between the English channel and the Atlantic Ocean, Brittany is always a hive of maritime activity and Oysters are never in short supply. There are always a variety of Oysters available: the 'Aven Belan', with a hazelnut taste, the 'Quiberan', for a slightly firmer Oyster, and the 'Concale', which exudes a perfumed scent.
Nord-pas-de-Calais
Over in Nord-pas de Calais, an incredible selection of cheeses are one of the many delicacies on offer. The Maroilles cheese made from cows milk includes a soft paste and washed crust. It has a distinctive orange colour and moist orange-red rind, and is particularly popular with those who like their cheese just that little bit stronger is the Maroilles cousin, being a paste of the Maroilles itself. Salted twice and without crust it has an extremely unique taste and is characterised by its grey colour.
Provence
For the sweet-toothed, Provence gives you the Calisson d'Aix. This almond-based sweet is crushed with melons, left to crystallise, then fruit syrup is added. This sweet has a unique taste, but is absolutely incredible.
Pyrenees
Of course, what would France be without its wine? Although many French regions are iwell known where wine is concerned, often other regions are ignored when their wine is of equal standard. The Pacherenc du vin-Bilh of the Pyrenees is one of France's best-kept secrets. This amazing white wine is a complete all-rounder, complementing almost every dish. It is particularly amazing when it accompanies cheeses and shellfish, or simply on its own.
So, on your French travels, you may be searching for that stereotypical French cuisine, but why not go for a variation on that, or something entirely new!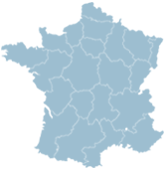 Select a location on the map to display properties within the region.