Is St Tropez still the jewel of the Cote d'Azur?
« Back to Articles - Date Posted: 09/07/2020 4:14pm by Alison Cummings
Some places will always be synonymous with class, sophistication and excitement; Milan, Mustique, Courcheval. But for a truly unique glimpse of an old fashioned glamour combined with a truly modern sense of fun, then St. Tropez is surely the ultimate holiday destination. Just the name itself conjures images of a lithe and beautiful Brigitte Bardot stepping onto the dock from the motor launch that has just carried her from a yacht which bobs serenely at anchor. Pausing only to dazzle a waiting paparazzo she struts to a shaded seat outside Club 55 and and sits down to sip a glass of chilled Bollinger.
While Ms. Bardot may no longer be a regular sight, Club 55 is still as chic as ever and one of the many bars and restaurants of extraordinary class and quality which have contributed to making this small seaside town in the South of France quite simply the most famous holiday destination in the world. While Club 55 may have been wowing all who eat and drink there for well over half a century there are other equally dazzling venues to enjoy. Arnaud Donckele, Head Chef at La Pinede, trained under the legendary Alain Ducasse. This apprenticeship has served him well as last year he was awarded his third Michelen star and his restaurant is rightly considered one of the finest places to eat in southern France.
Aside from providing an actual feast, the jewel of the Cote D'Azur is a metaphorical one for those who enjoy golden beaches on which to culitvate a golden tan. Pampelonne is perhaps the best known, a three mile stretch which has in no small way contributed to the worldwide fame which St. Tropez enjoys. Indeed it is here you will find many of the beach bars including the aforementioned Club 55. Other smaller beaches include La Glaye, La Ponche and de la Fontanette all of which front the oldest part of St. Tropez and are wonderful for a more relaxed time. The natural beauty of this peninsula lies not only in it's beaches but in the wood shaded hills that surround it and the views across a sparkling blue see to the spectacular Maures mountains.
Toulon-Hyères airport is only 45 minutes away and has been served by flights from Stansted airport. Nice-Côte d'Azur is 90 minutes away and can be reached from Gatwick and Heathrow, as well as other airports throughout the UK. So whether you are seeking a sun soaked luxury trip, a chilled out long weekend or a gastronomic extravaganza, what was true in the 1950s is still true now; St. Tropez is a destination everyone should visit at least once in their life.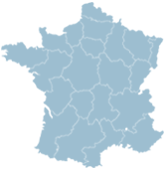 Select a location on the map to display properties within the region.