Top five winter activities in Brittany
« Back to Articles - Date Posted: 14/09/2017 2:38pm by Alison Cummings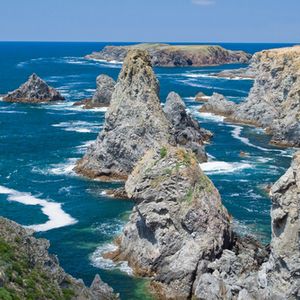 Though you probably associate the stunning beaches and rugged coastline of Brittany with idyllic summer holidays and revitalising spring breaks, the region has something to offer visitors throughout the year, with the winter months some of the wildest, most romantic and most atmospheric of all.
Plus, with all of the summer tourists safely back at home, you'll have the stunning landscape, traditional villages and historic towns all to yourself.
So if you're looking for a winter getaway with a difference, here are five of the best cold weather activities Brittany has to offer.
1. Experience a winter storm on the Wild Coast
Brittany's Côte Sauvage, or Wild Coast, is battered by high winds and huge waves for much of the winter, leading to spectacular storms and breath taking views.
For the best winter weather experience, head to the 'Needles' rocks at Port Coton. Here you'll get to see the coastline lashed by wintry storms and find out what inspired Claude Monet to write: "..diabolical but superb, and I think I shall never see their like anywhere else".
2. Authentic Breton food in a cosy local restaurant
Once you've experienced the power of the Breton weather, what better way to warm up than with some traditional food in an authentic local restaurant?
From mouthwatering crepes to a comforting beef and dumpling stew, an afternoon in a Breton eatery is a fantastic way to spend a cold winter's day.
3. Pamper yourself at a local spa
If the weather is too wild for an afternoon stroll, why not relax instead with an indulgent day at a local spa.
There are plenty of spas throughout the region offering a range of treatments, facilities and services, so it should be easy to find a spa close to your holiday accommodation.
4. Winter shopping
If you're heading to the region before Christmas, Brittany's many 'Cités d'Art' offer lots of opportunities to pick up unique and beautiful gifts.
In towns like Pont-Scorff, Dinan, Pontrieux and Moncontour, the arts are flourishing, making them well worth an afternoon of exploration and retail therapy.
5. Experience Europe's highest tide at Saint-Malo
Thanks to the effects of the moon and sun at this time of year, the high tide at Saint-Malo is one of the most dramatic in Europe.
Another great opportunity to experience the power of nature on Brittany's coastline, you'll have to time your trip to the town carefully to ensure you see the full effect.
With an abundance of natural and cultural attractions, a winter visit to Brittany will keep you busy from beginning to end. So why not book yourself a holiday rental in Brittany now and experience another side of this stunning destinations?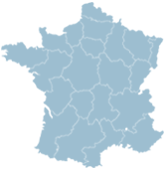 Select a location on the map to display properties within the region.