Top French Christmas Markets
« Back to Articles - Date Posted: 14/11/2019 3:58pm by Alison Cummings
Do your Christmas shopping in style this year, and have a short break holiday to France at the same time! Here is a round-up of some of the best Christmas Markets France has to offer.
Lille
The 80 minute Eurostar link makes this one of, if not the, most popular French Christmas markets to visit among the British. The market is situated in Place Rihour and caterers for all budgets and tastes. The market has a real magical feel with a beautiful Ferris wheel in the main square and a stunning 18 foot Christmas tree. The stalls consist of over 80 traditional wooden chalets selling everything from local food and drinks, hand crafted items, clothing and arts. Add the 3900 shops that Lille has to offer and you have entered a shopper's paradise!
Avignon (Provence/Alps) Marché de Noël
Christmas in Avignon is a truly enchanting experience. The streets are lit up and scenes of the nativity decorate every corner. The Place de l'Horloge is the site of the town's Christmas Market, which is home to a large variety of stalls selling handcrafted gifts and traditional wares. There are also a number of parades, including Santa and his reindeer, folk dances and Christmas Carols being sung which make this Christmas Market an unforgettable experience for the whole family.
Nice
Nice offers a truly spellbinding experience for visitors to its Christmas Market, which is held in the central square of Nice, Place Massena. With over fifty wooden chalets selling local made arts and crafts, there is also a large skating rink for all ages, a Ferris wheel on the Promenade du Paillon, an enchanting fir forest and Christmas parades. There is something for all ages in Nice.
Paris
There are a number of Christmas Markets held in Paris throughout the festive period, including those in the La Défense region, on Avenue des Champs-Elysées, The European Christmas Village 'Trocadero on Ice', Montparnasse Christmas Village and the Saint Germain des Pres Village of Father Christmas. All can't fail to delight and inspire, offering the region's finest handcrafted items, from Christmas decorations, to local food and drink, to arts and crafts. All are beautifully decorated and much thought and effort goes into the presentation and ambience of the markets. Christmas is a magical time in Paris, and surely the most memorable time to go there on holiday.
Bon Noël!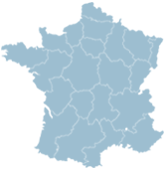 Select a location on the map to display properties within the region.