What to expect from a Christmas in France
« Back to Articles - Date Posted: 26/11/2018 2:59pm by Alison Cummings
If you're heading over to France on holiday this coming festive season, it's worth knowing how they celebrate this time of year on the other side of the channel.
Of course, these traditions vary from one French region to another, and (as in the UK) even different families will have varying ways of doing things. But, broadly speaking, traditions reflect the nation's deep-seated Catholicism.
In France, the season really gets underway on St Nicholas Day, December 6. Traditionally, this was a day for giving gifts to children. Now some people still do this – in other families, presents may also be given on Christmas Eve. (Or only then.) Christmas Eve is, as in Britain, where Père Noel or Father Christmas does his rounds. For those who are religious, Advent begins on the first of the four Sundays before Christmas, and special masses are said on each of these days.
Christmas Eve is of course the night for Midnight Mass, and the evening for a big family meal. Called le Reveillon, this meal is usually served after Midnight Mass. It's a full meal, despite the hour, with soup or another starter, goose or other poultry and a Christmas log (Buche de Noel) for pudding.
The festive season lasts a little longer in France, with special lighting and singing in church and the like continuing until Epiphany, nearly two weeks after Christmas. Epiphany signals the end of the Christmas period, and is celebrated with a special cake which has a treat baked and hidden inside it which one eater will find.
You can also expect to hear seasonal music just about everywhere you go, including traditional hymns and translations of non-religious songs. (Jingle Bells for example becomes Vive le vent, literally Long Live the Wind.)
Religion is obvious in the nativity scenes which tend to decorate French homes rather than a Christmas tree, and you may hear bells ringing from churches for longer than usual.
If you're spending any length of time with French people during this holiday, be aware that gifts are getting bigger and being more widely exchanged than before, although it still varies widely by family.
With so many parallels with how we celebrate Christmas in Britain, it will certainly feel festive, wherever you are in France.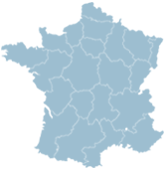 Select a location on the map to display properties within the region.