Wondering about the best way to see the real Provence?
« Back to Articles - Date Posted: 10/10/2019 4:05pm by Alison Cummings
The answer? By visiting some of the region's traditional villages. From seemingly precariously perched hilltop villages to small coastal communities, the traditional Provencal village is the perfect place in which to enjoy the region's architectural delights, and to soak up the area's culture - while uncovering some hidden gems that are off the normal tourist track. Enjoy a coffee or a drink at a café in a beautiful village square, admire the stunning buildings and fountains and simply enjoy the relaxed vibe in some of our favourite Provencal villages.
For its history... Crillon-le-Brave
Just 35 kilometres from Avignon, Crillon-le-Brave is a small and picturesque hill village that has a truly classic Provencal feel. Walk around the village and you'll be able to spot the remains of the village's 16th century ramparts, ancient belfry and medieval château, alongside a beautiful church and chapel.
For its beauty... Gordes
Widely recognised as one of the most beautiful villages in Provence (and there are a lot to choose from!), Gordes is a hilltop village that can be found just to the west of Roussillon. Full of traditional stone houses with stunning terracotta roofs, visitors will also be able to explore the castle in Gordes, and wonder at the impressive panoramic views. It's no surprise that Gordes was a favourite among painters such as Marc Chagall.
For coast lovers... Cassis
Possibly more of a town than a village, Cassis is becoming more popular amongst tourists but still remains relatively unspoiled. As a traditional Provencal fishing village, you'll find plenty of seafood restaurants from which to choose, along with small shingle beaches for those looking to sunbathe. It's also a great base from which to enjoy a boat trip to explore the neighbouring "calanques" - small picturesque creeks around the coastline.
For famous residents... Saint Rémy de Provence
Nostradamus was born in Saint Rémy de Provence, Van Gogh painted The Starry Night in the village, and Dr Albert Schweitzer was held prisoner here. Just 20 kilometres south of Avignon, Saint Rémy de Provence is a busy village with bustling markets, and with architectural highlights including the village monastery (the asylum of which Van Gogh stayed at), and the remains of the 14th century protective wall around the village.
For something a little different... Porquerolles
Porquerolles is a bit different from the other villages on this list... because it is an island! The island of Porquerolles is just off the coast between Cannes and Marseilles, and is only home to around 200 people. There are no cars allowed on the island (regular boat trips run from the mainland) and so the whole island is relatively unspoiled. As well as exploring the beautiful port, you'll be able to take in village with its seafood restaurants, cafés and small shops. Venture a little further and you'll find a stunning pine forest to explore, as well as numerous secluded beaches with beautiful white sand and incredibly clear water. If you want to explore the island fully, consider hiring a bicycle from a shop in the village for the day.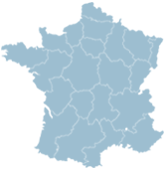 Select a location on the map to display properties within the region.