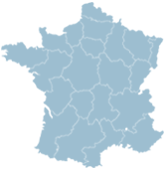 Select a location on the map to display properties within the region.
Quick Guide to Normandy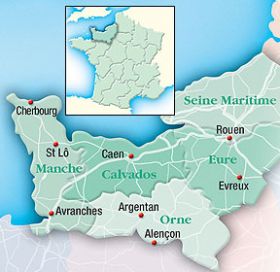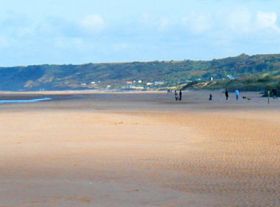 Departments in Normandy:
Eure, Seine-Maritime, Manche, Calvados, Orne
Popular Towns in Normandy:
Rouen, Caen, Cherbourg, Dieppe, Le Havre, Honfleur
If there was an award for Most Dramatic Region, Normandy would be tearfully accepting it every year. Normandy's history is almost ludicrously full of drama. It all seems to start at the outset with the battle of Hastings, commemorated in the hugely famous Bayeux tapestry, which is housed here, but from there it spreads out to every corner of the region, ranging from the touching impressionist paintings by Monet of Giverny, to the emotionally-charged Omaha beach, to the impressive construction of Abbaye du Mont-Saint-Michel.
The landscape is no less theatrical, and the blustery beaches, gravity-defying rock formations and sweeping sands which populate the region both rival and compliment the man-made excitement. Throw in hiking, biking and watersports, and you've got a tourist destination which demands your attention unlike any other.
---
Top things to see...
The iconic Bayeux tapestry, a Medieval woven chronicle of the Anglo-French battle of Hastings in 1066.
The evening sun framed in the three natural arches set in a cliffy outcrop at Falaise d'Etretat with its golden reflection bouncing across the sea.
Pointe du hoc, an important war site where American soldiers scrambled up cliffs; this dramatic panorama will appeal to history-buffs and nature lovers alike.
The Abbaye du Mont-Saint-Michel, a church which seems to have literally sprung out of the beach, bursting out of the beach-church, silhouetted against beach and sea backdrop.
A Master-class in reinvention at Le Havre, a city once known for being grey and gloomy but now discovering its own edgy urban personality.
Top things to do...
Reflect on darker days on the wind-swept Omaha beach, made famous as the site of the D Day landings.
Experience the disorientating effect of the every-changing beach as you walk barefoot in the footsteps of the pilgrims along the Chemins de la Baie.
Channel your inner impressionist whilst standing on the iconic bridge in Monet's exquisite garden at Giverny.
Swoop and soar around the impressive Mont Saint Michel in a hand-glider.
Join the party at some of the raucous summer festivals along the coastline.
Famous for...
D-Day, Monet, William the Conqueror, Bayeux tapestry, Mont St Michel, beaches.
Did you know...?
Before moving to Giverny, Claude Monet had only ever seen Giverny through a train window, but was so struck by its beauty he decided he had to live there.
---
Getting there
By road... Very good road access from Paris makes driving to the Normandy region quick and easy.
By air... Depending on where in the region you are staying, it might be easiest to fly to Paris and drive from there. Otherwise, for Western Normandy, RyanAir and Air France run a service between London and Rennes.
By public transport... There are direct trains from from Paris Gare Saint Lazare, although they can get fully booked in peak season so its best to plan ahead where possible. There is also direct access by ferry from the UK, to Cherbourg, Caen (Ouistreham), Le Havre or Dieppe.