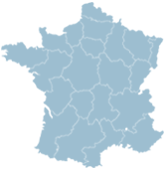 Select a location on the map to display properties within the region.
Quick Guide to Provence and the Cote d'Azur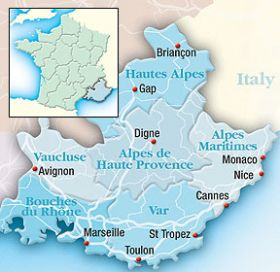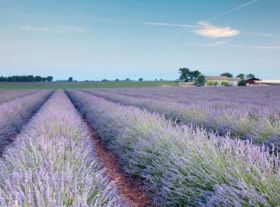 Departments in Provence/Cote d'Azur:
Alpes de Haute-Provence, Hautes Alpes, Bouches-du-Rhone, Var, Vaucluse, Alpes-Maritimes
Popular Towns in Provence/Cote d'Azur:
Nice, Marseilles, Arles, Avignon, Toulon, St Tropez, Cannes, Gap, Briancon
Provence in the south of France has become one of the most popular and famous holiday destinations for one very good reason - it has everything you could ever want. The Mediterranean coast is made up almost solely of places which look like they have been made for a postcard - Cannes with its renowned film festival, St Tropez with its exclusive clientele and Monaco, its own sovereign nation, which has the last word in decadence.
But along side the red carpet of glamour which stretches along the coast, further inland there are many opportunities for everything from skiing to hiking, all in the glorious sunshine. This is one of the few places on earth where you can afford to believe the hype.
---
Top things to see...
The original millionaires' playground in Monaco.
Endless fields of lavender stretching till the horizon.
An innovative art-gallery at Carrieres de Lumieres where artwork projected onto rocks to form a unique gallery.
The immensely impressive views out over the sea along the Route des Cretes La Ciotat Cassis.
Art, opera, ballet, and what ever else your inner culture vulture desires in Marseille.
Top things to do...
Mingle with the A-list at the annual star-studded Cannes Film festival, or just enjoy the local markets in the quaint town centre.
Yacht-hop in St Tropez, a resort oozing with glamour and decadence.
Spend a day on the pistes and then enjoy an aperitif with the in-crowd at the exclusive ski resort.
Work up a sweat in the sun hiking up the impressive "Montagne Sainte Victoire" near Aix-en-Provence.
Escape the tourist traps and explore the quiet medieval villages which lay off the beaten track.
Famous for...
Cannes, beaches, the Mediterranean sea, St Tropez, yachts, Monaco, Nice.
Did you know...?
Cannes film festival is the birth place of the "red carpet" for celebrity events.
---
Getting there
By road... There are several great scenic drives to Provence, although as it is in the south of France it is a long drive from the UK which will take at least a couple of days. Toll free routes are available.
By air... Due to its popular appeal, reaching Provence is easy, and there is a whole spectrum of flights available, from all over the UK run by everyone from British Airways to Flybe.
By public transport... Door-to-door from London to the region is about 8 hours, which makes it much quicker that driving, and will often work out cheaper too if booked in advance.